Data table with Graphs and Charts is a plugin that allows you to create data tables step by step for any purpose, without programming skills, using a Builder convenient for you.
Yes, you are not mistaken, the plugin contains two builders for creating tables, but more about this and wide functionality a little later.
How to quickly and easily make an attractive table using the Data Table plugin?
Each step is very simple and takes less than a minute!
To create a table, go to the DataTable plugin menu and click "Add Table".
Here enter Title and add the required number of columns and rows.
Already at the stage of table creation, you can enter column names and data into the table, and most importantly, you can define the order of the columns using drag and drop.
(In this case, you can change this data at any time.)
Then just click "Create Table".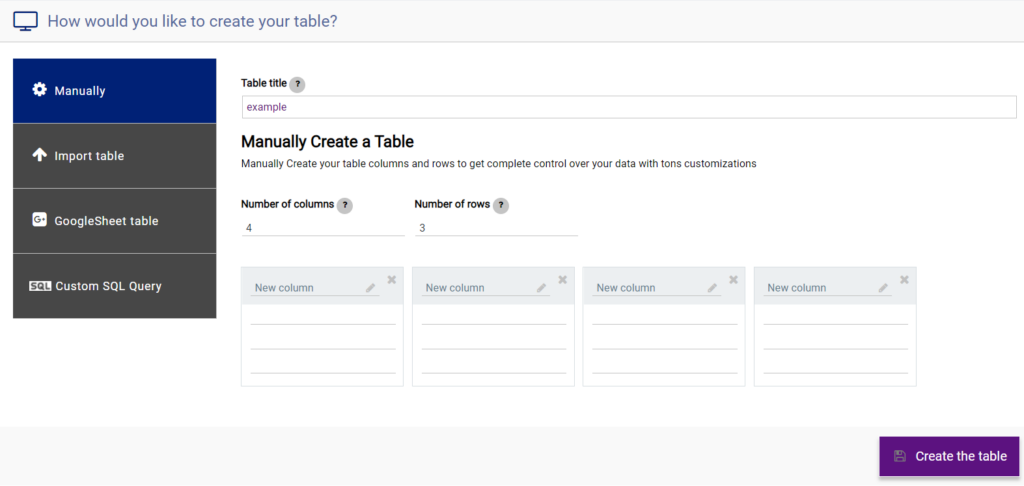 SIMPLE | EXTENDED Table Builder
We've taken care of each, so there are two table builders available in the plugin.
Simple builder.
Intuitive interface consisting of several buttons. You can add and customize columns in a couple of clicks.

Extended builder.
Has a wider set of options and content settings in the table. But it's still as easy to use as possible. If you've worked at Excel, then the interface will definitely be familiar.
Extended builder fully supports:
Add / hide / remove columns and rows. (Including bulk action)
Text settings. Size, style, font, color, text alignment
Cell background color.
Merging cells
Insert links, media, comments.
Formulas.
Add conditional formatting to cells
Add editable field.
Convert the cell content into icon with tooltip.
Make the rows collapsible.
Do shortcodes in the selected cells.
Enable Multiple Sorting
Show column letters
Show filter row
And also create charts by manually selecting a range directly from the table builder.

You can find out more about the Builder options in our detailed documentation.
Drag-and-Drop
In addition, you have the option to change the order by dragging and dropping columns and rows and making additional adjustments to suit your needs.