The PubyDoc team has decided to provide all the premium options of the plugin for all our users absolutely free of charge. Now you can use a really powerful Data Table plugin without any fees.
PubyDoc – Data Tables and Charts is a WordPress plugin that makes working with tables, charts, and data management really easy and efficient. This is a truly indispensable tool for working with data: financial, statistical, commercial, information, and other data.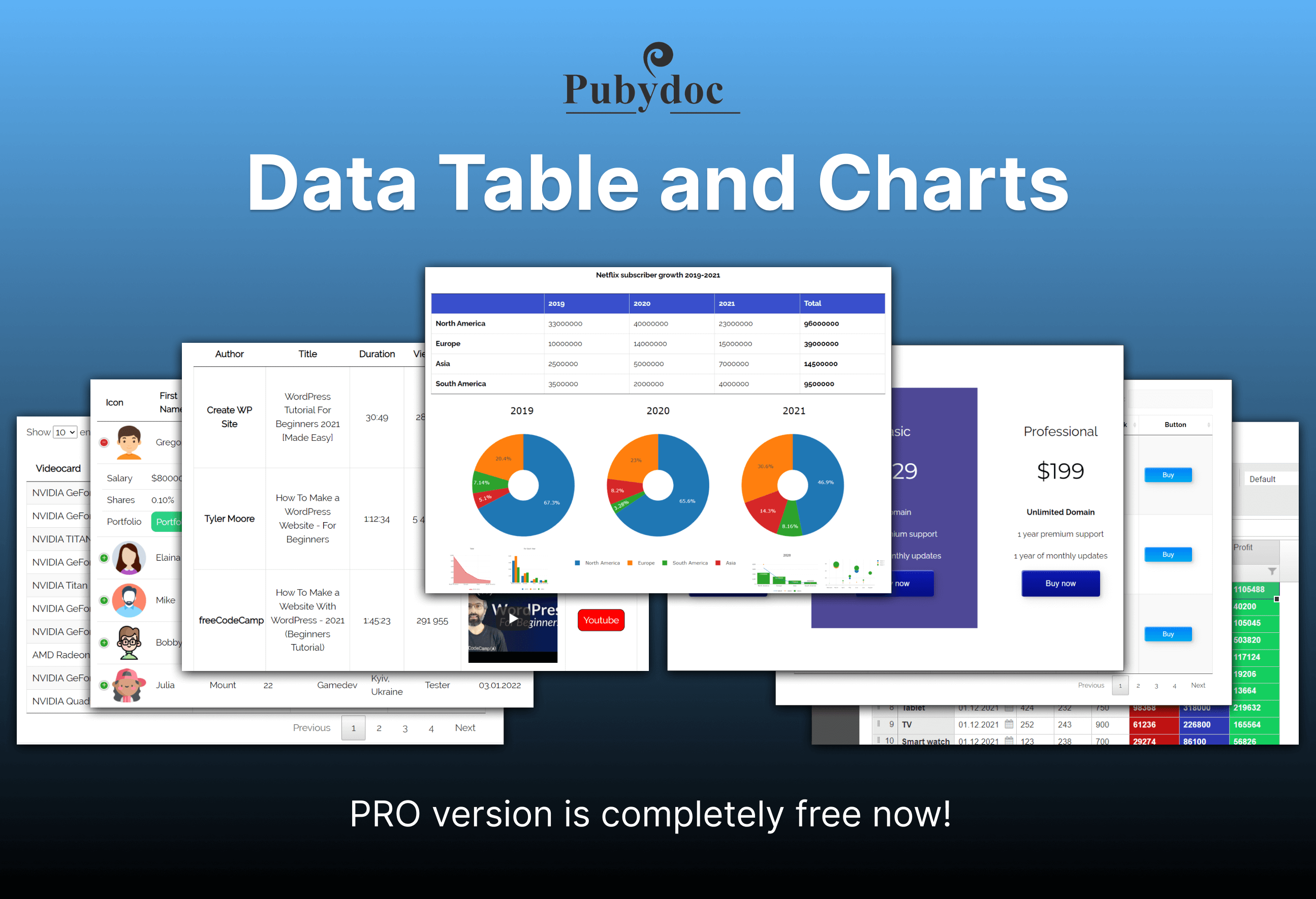 Create data tables and charts without leaving WordPress
One powerful plugin has everything you need to manage data tables and visualize data in charts. 
Create a table in any convenient way.
Once the plugin is installed, you can create your first table:
Create a table manually;

Import/Export data table in Excel;

Import / Export and synchronization with Google Sheets;

Import/Export data table in CSV;

Create and control a table with SQL queries from both the internal WordPress database and an external Database.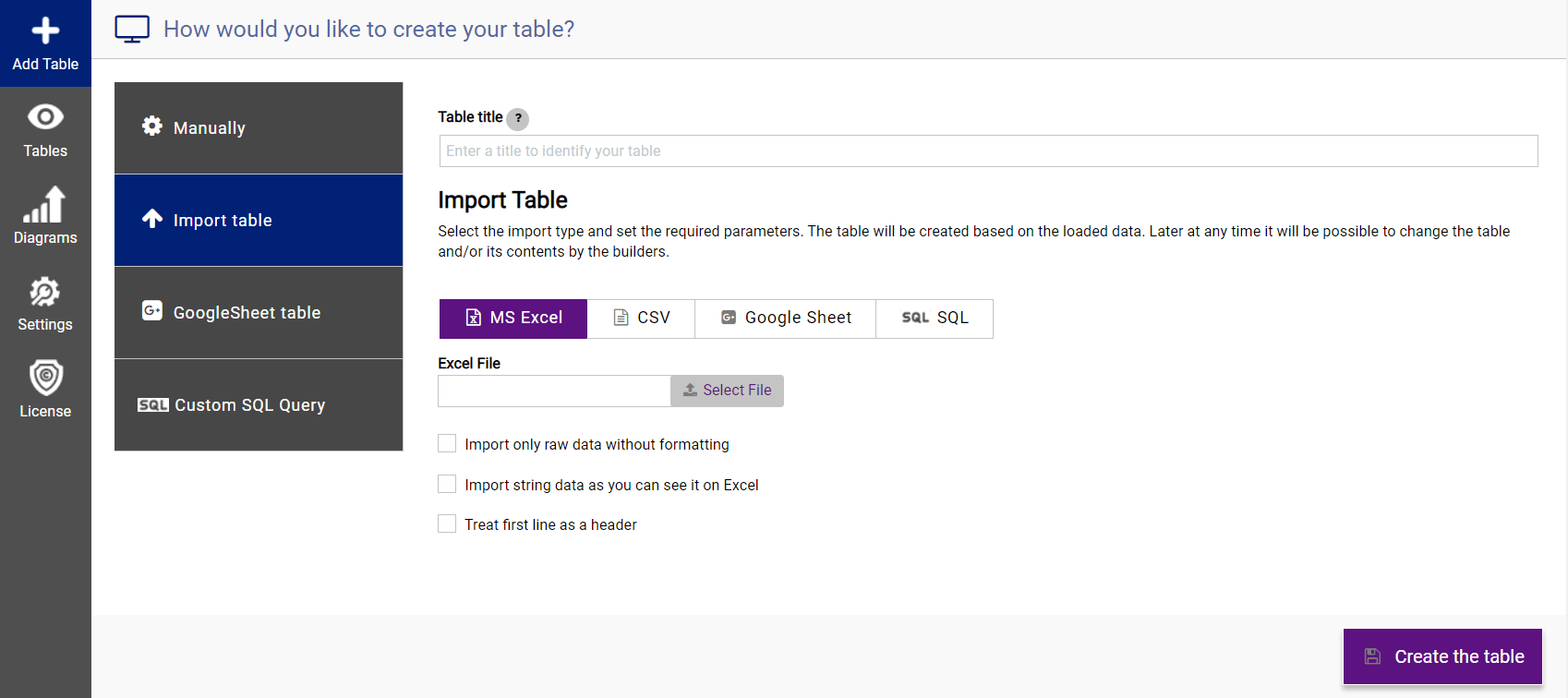 Full customization of the functionality in a couple of clicks. 
When the table is created, it's time to set up the table. Data Table and Charts is a plugin that allows you to gradually set up Data Tables for any purpose, without programming skills, using a constructor convenient for you. Yes, you read that right, the plugin contains two constructors for creating tables:
Simple builder. Intuitive interface consisting of several buttons. You can add and customize columns in a couple of clicks

Extended builder. Has a wider set of options and content settings in the table. But it's still as easy to use as possible. If you've worked with Excel, then the interface will definitely be familiar.

The PubyDoc Data Table plugin has the most powerful add-ons and a wide range of options to make tables truly convenient and efficient. You can enable and configure all the necessary options in one click, watching the changes immediately in a live preview.
For example, enable sorting, pagination, and search, which is a very handy way to quickly narrow down the results of your WordPress table.

Need to highlight/highlight data that fits a certain condition? No problem, just use the conditional formatting feature which can create an unlimited number of conditions at the same time.

Want to make the DataTable more readable and understandable? We already know all the possibilities for this, just set up: Caption; description; signature; header; footer; fixed header; fixed footer; fixed columns; Auto index – for your DataTables.

Or maybe give your users the ability to download/export the DataTable in the desired format directly from the front? Just specify the formats you want and export buttons for each format will show up on the front.

In one click, customize the data format for the entire DataTable or separately for selected cells and columns.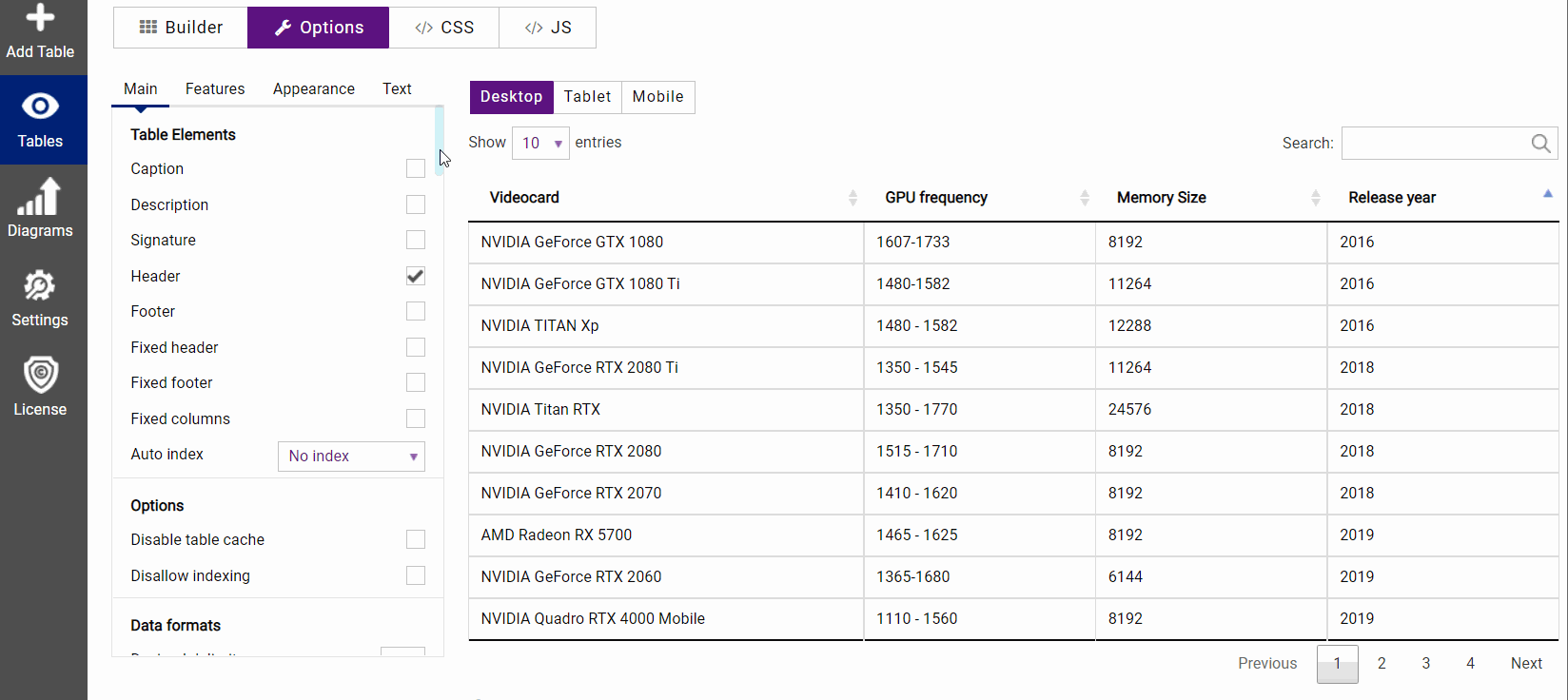 Design customization without programming knowledge.
Once the table is created, it's time to give it a custom look and make it more stylish.
And as you may have guessed, Pubydoc has all the necessary tools for this:
Auto/Fixed table width

Align by the first table

wrapping settings

Paragraph mode settings

Lightbox and options

Borders and colors

Row striping

Highlighting by mouse hover/ the order column

Table loader

Advanced design options for each DataTable element

After two simple steps, our table is created and configured. Usually, those to whom you are going to show the table, and especially, for example, stakeholders do not like dry numbers. The good thing is that you can visualize your data tables with dynamic graphs and charts that will show changes in real-time in stunning and easy-to-understand charts.
PubyDoc gives you the ability to create interactive DataTables that can be turned into charts or graphs in a couple of clicks.
You have many options for charts and graphs, the display of which you can easily customize in great detail, including custom design – so that they look perfect on your site. Moreover, each graph or chart can be customized individually.
The plugin fully supports the following types: area chart; line chart; Pie chart; barchart; multichart; bubble chart.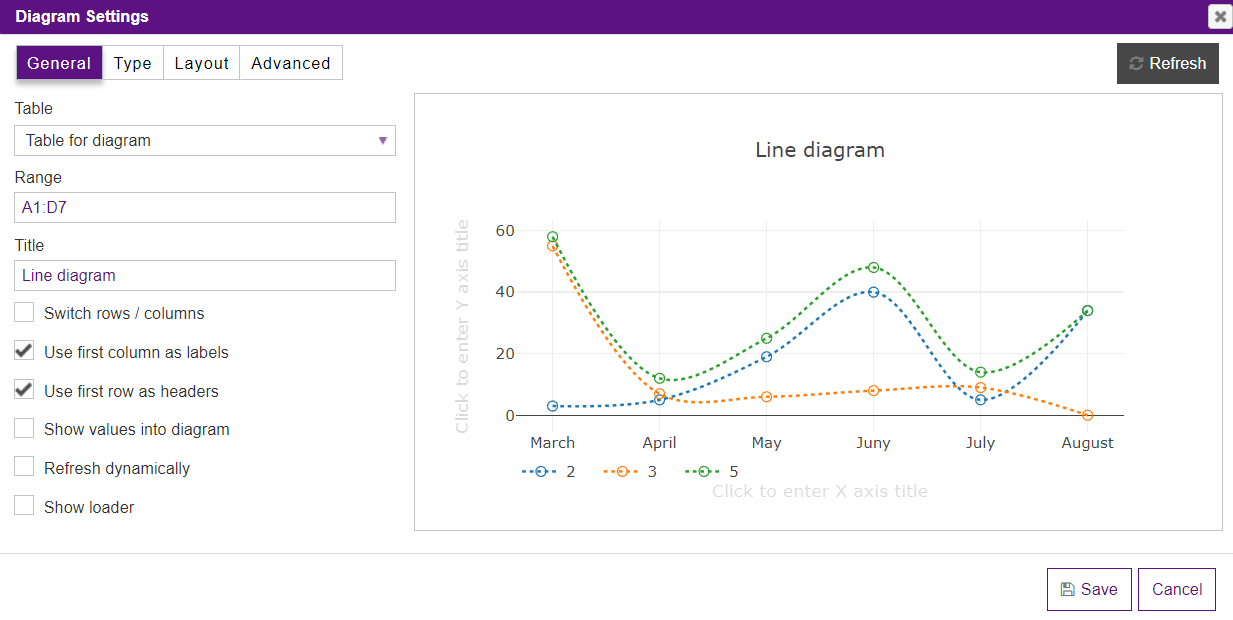 More Benefits of WordPress Data Tables and Charts by PubyDoc
The plugin provides full control over the responsiveness of tables thanks to 4 responsiveness modes.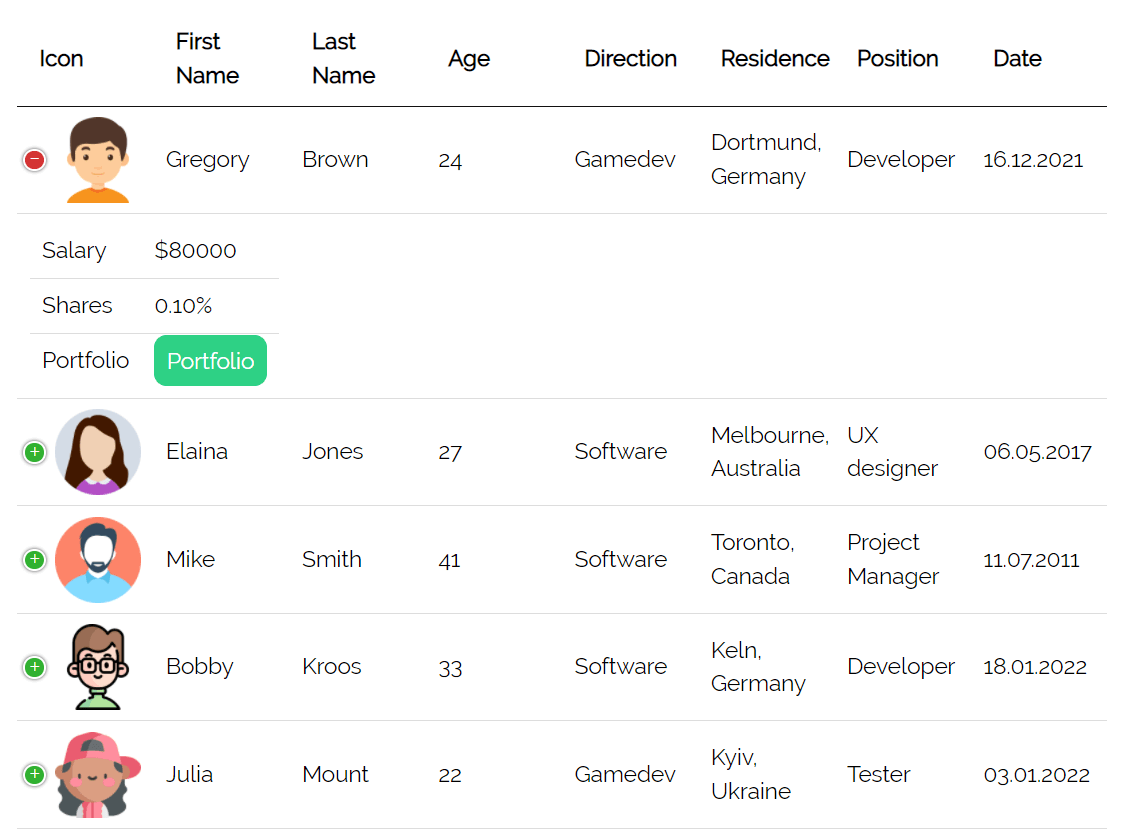 Create truly unique DataTables with PubyDoc. After all, each column, or individually selected cells, can have completely different data types. For example, a plugin can create DataTables that can simultaneously be with text, pictures, video, video from the source, audio, buttons, dates, percentages, currencies, selection fields, and a field for loading data, as well as add and customize unique formats using the field type HTML.
Moreover, each of the types has the widest range of functions that can be configured for any task.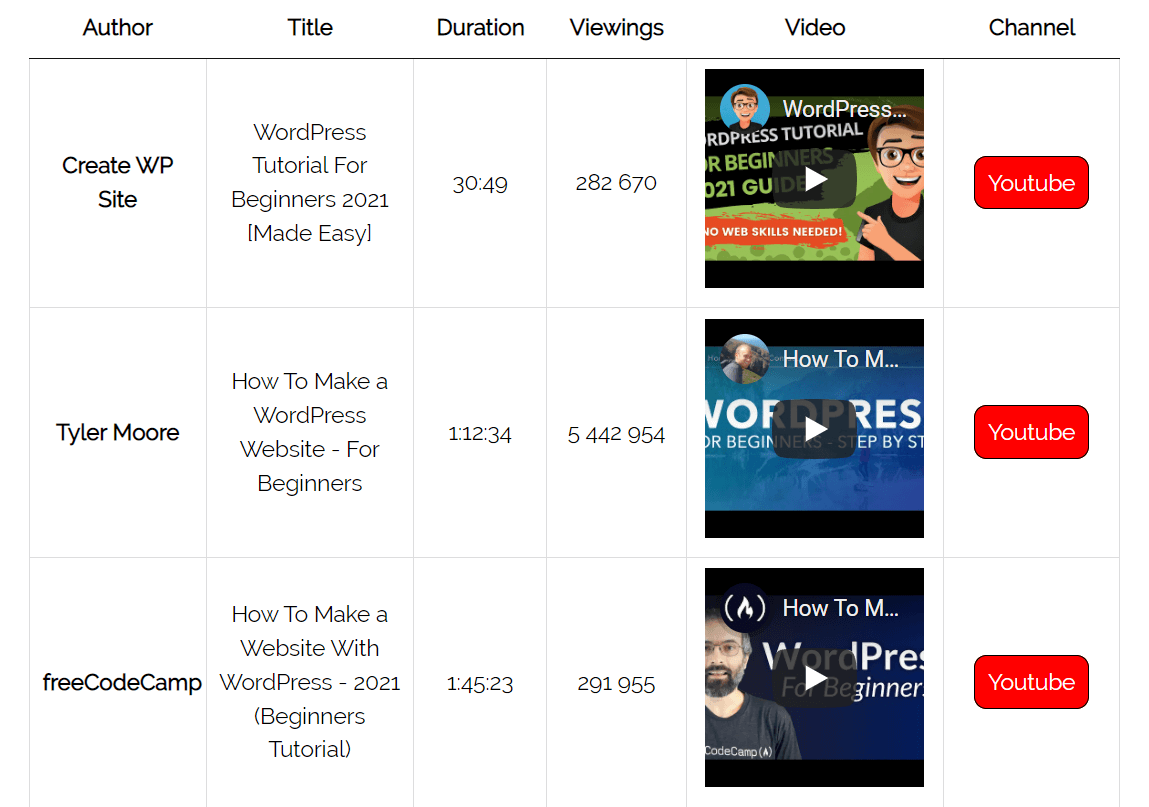 If you are building a table using the PubyDoc Data Table plugin, you have the ability to create up to 1 million cells/columns in a single table. At the same time, we have optimized the plugin so that even such an amount of data has practically no effect on the speed of DataTables. And the pagination functions, the possibility of processing on the server side, when the table is sequentially loaded ajax for each page, will make the table even faster and more efficient.
Fast-loading content improves the user experience. Fortunately, the PubyDoc Data Table and Charts plugin has built-in options to avoid speed issues.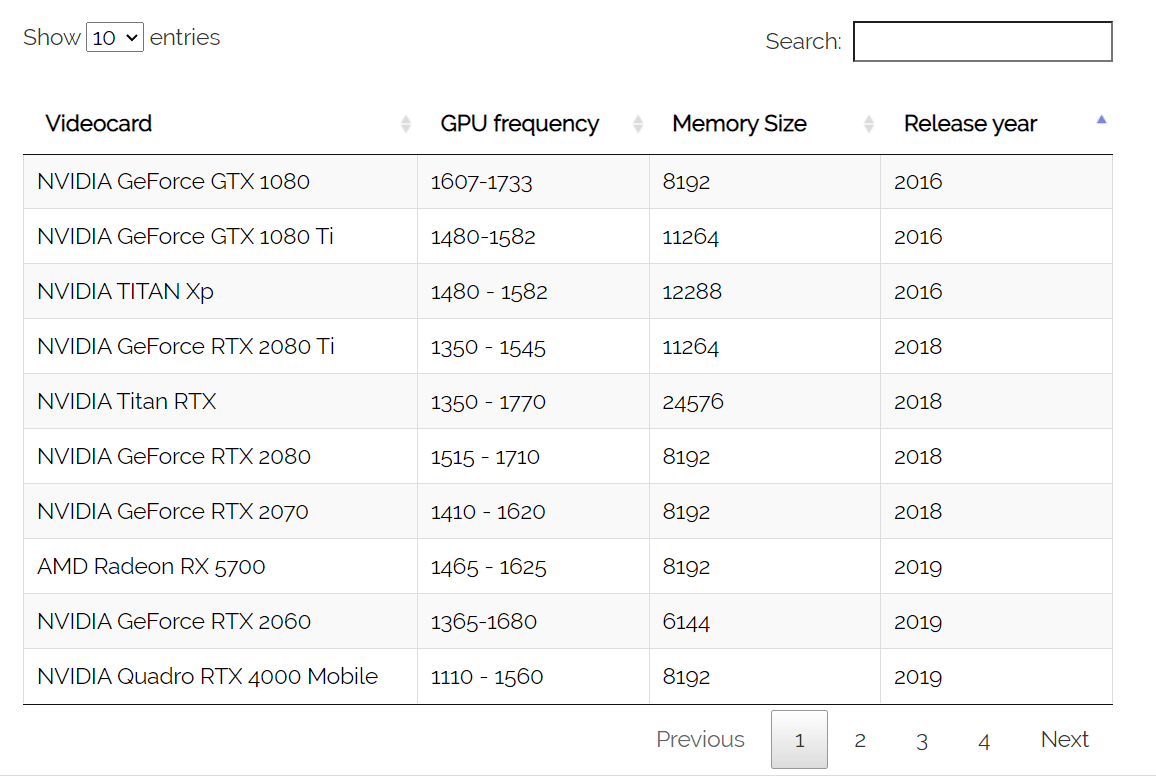 With the PubyDoc Data Table and Charts plugin, you can create and customize fully editable DataTables. Your external users can view, edit, delete data, upload files, and save those changes to the spreadsheet. For example, on orders or inquiries, own items added to stock, etc.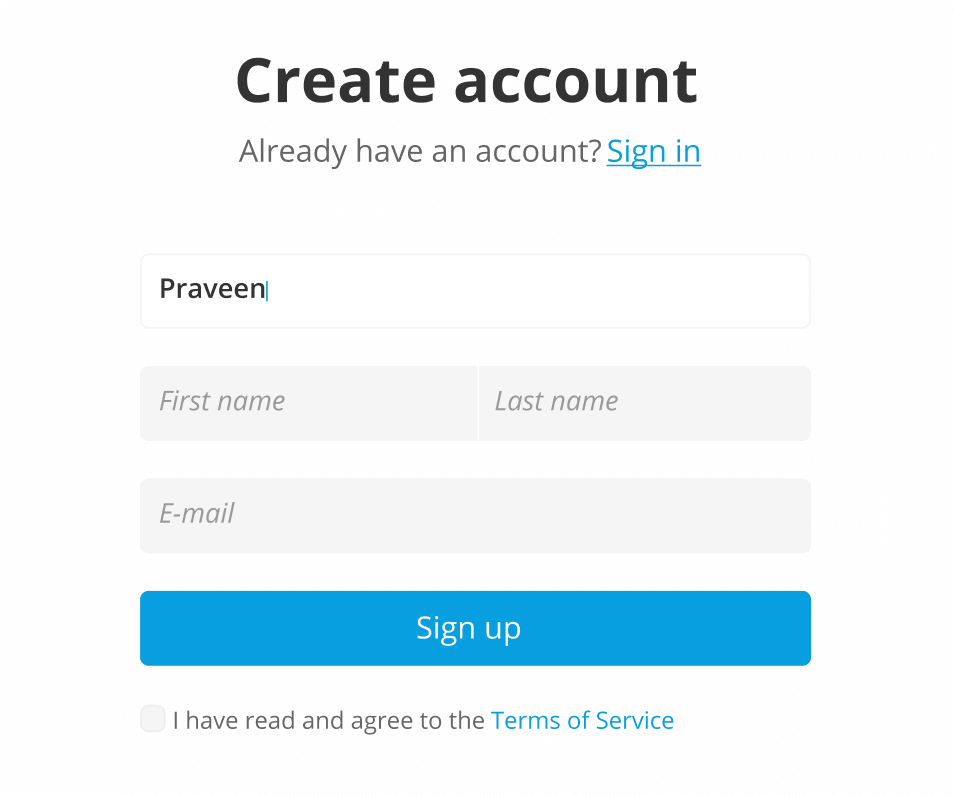 Formulas are an important component of tables, they help to automatically perform all calculations and also avoid many wasted hours, days, and sometimes months of manual work. Fortunately, the PubyDoc DataTable and Charts plugin fully supports the formulas familiar to us from working with Excel.

If you have some knowledge of programming and need point changes in how tables work, then the plugin has CSS and JS editors.
Is everything free now?
Yes, this is not a joke. Previously, the plugin had two versions: Free (where basic plugin options were available for free) and paid Pro (opening all the most powerful features of the plugin). But now the PubyDoc developers have decided to make a single Free version that provides absolutely all premium options for free.
Hurry up and get the best Data Table and Charts WordPress plugin in the WordPress directory or directly from pubydoc.com. Well, if you already have the plugin installed, then just update to the latest version.
Well, we urge you to appreciate this kind gesture from the developers of PubyDoc and rate their plugin with a good review.  Good luck.